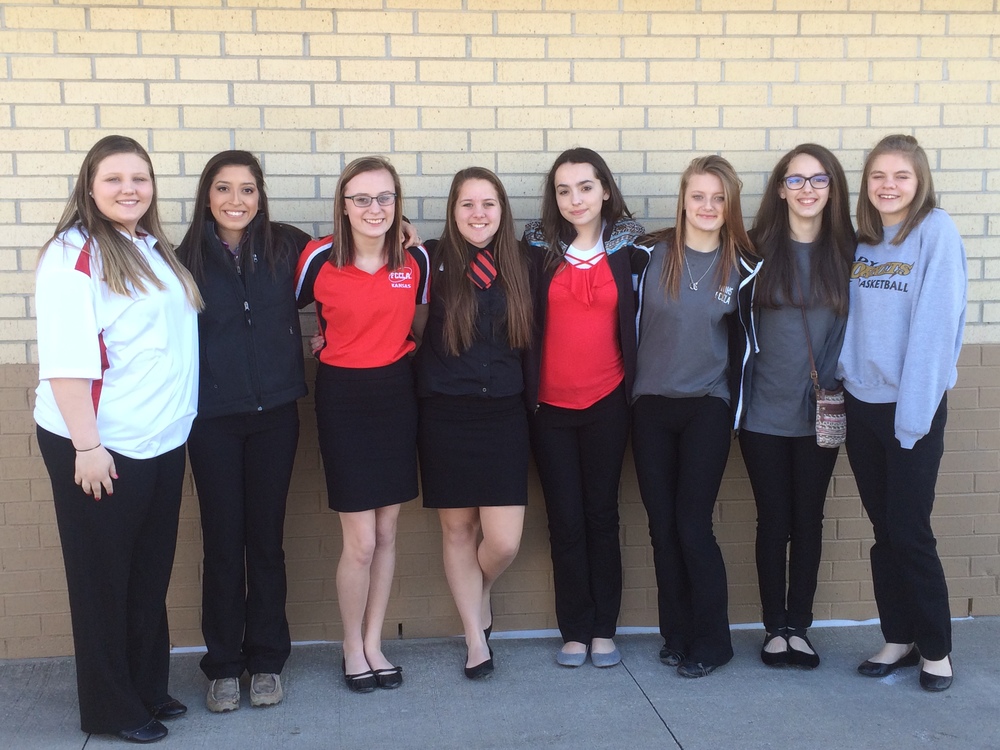 FCCLA 2018 District H STAR Event and Election Results
Peggy Fort
Friday, February 09, 2018
2018 District H STAR Event and Election Results
At the District H FCCLA officer elections on Wednesday, February 7 in Yates Center,
Emily Gilbert was elected District H Treasurer and VP of STAR events.
In the District H FCCLA STAR Event competition
Lizzy Murray took 1st place in Job Interview and is a State Qualifier
In the Job Interview Event, Lizzy selected a job she was qualified for, developed a portfolio
showcasing her abilities along with a cover letter, resume, completed job application and
references and was interviewed for the job at competition.
Mekenzy Lucas and Kaley Boyce took 1st place in Chapter in Review and are State Qualifiers
In the Chapter in Review Event, Mekenzy and Kaley developed a portfolio showcasing the
Program of Work of our chapter and gave a 15 minute oral presentation covering all the
activities our chapter has been involved in this year.
Kennedy Dragonas, Emily Gilbert and Allyssa Beck took 1st place in Chapter Service Project and are state qualifiers
In the Chapter Service Project event, Kennedy, Emily and Allyssa chose to work on an in
depth project on "Relationships Matter" – personal, friends, family, school & community.
They developed an electronic portfolio and gave a 10 oral presentation on their project.
Christina Lewers and Samantha Myers took 1st place in Focus on Children project and are State qualifiers.
In the Focus on Children event, Samantha and Christina developed and presented a "Don't Bully" program for the NLC 7th and 8th graders. They then made a display board describing
their project in a 10 minute oral presentation at competition.
8 NHHS FCCLA students went to District competition and all 8 qualified to go on the state competition which will be in Wichita and April. Congratulations to each of you!
Also, at district competition – Mrs. Corpening, Caleigh Smart and Mrs. Breiner judged the Sports Nutrition STAR Event. Thanks to Mrs. Corpening and Caleigh for helping with that event!