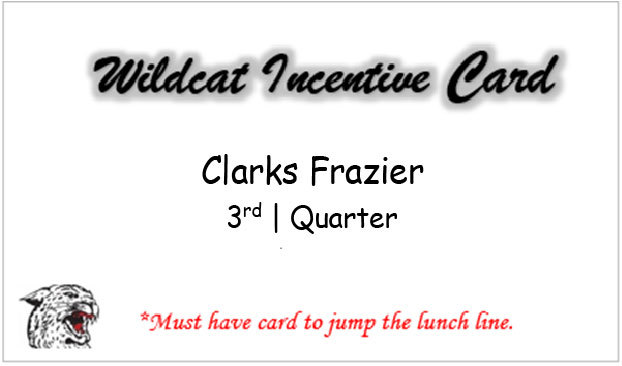 Wildcat Incentive Card
Eric Yu
Wednesday, February 14, 2018
Card Criteria
Not on academic probation or ineligible throughout the entire quarter. No disciplinary referrals (including cell phone & hall pass violations).
No more than 3 tardies. No more than 3 absences.
**Each student's eligibility for the incentive card will be based off the previous quarter's data. There will be no cards given out the first quarter of each year.
**Incoming freshman will not receive a card the first quarter of the year as the card has to be earned.
Incentives Include:
Recognition on the school website. Express lunch line.
First row parking.
Extra Credit—you get to choose 1 class to put this credit towards and it is at the teacher's discretion as to how much credit you get. Teachers will hole punch the wildcat on the incentive card to indicate that the student has used their extra credit.
Quarter End Incentive
Party (bowling, movies, etc.)
Year End Incentive
At the end of the year, there will be a drawing for prizes. You must keep all your cards throughout the year and that is what you will use for the drawings. For example, if you get 3 incentive cards throughout the year, you can use all three cards to place into one drawing or you can spread them out put your name in multiple drawings.
There will also be an opportunity for a field trip for those who have held a card for 3 out of the 4 quarters.
Here is a list of students that received an incentive card for the 3rd nine weeks.
| Seniors | Juniors | Sophomores | Freshmen |
| --- | --- | --- | --- |
| Andrea Anderson | Eva Berry | Sophia Arens | Zeke Ball |
| Kelsey Bosch | Tanner Boyce | Emma Beile | Emma Barnett |
| Trinity Case | Alexis Davis | Landon Delgado | Olivia Barrett |
| Benedetta Comoglio | Destiny Dody | Tyler Floyd | Kaley Boyce |
| Karsen DeWeese | Gene Finey | Southern Hall | Abigail Johnson |
| Michael DeWeese | Allie Houston | Aleah Hines | Danny Johnston |
| Kennedy Dragonas | Amber Landis | Khylee Massey | Kobin Kesler |
| Tyler Gentry | Jarrett Morris | Faith Miller | Darrett King |
| Levi Marcotte | Daisy Murphy | Cydney Mize | Michael Lindburg |
| Cecilie McKenzie | Jarrett White | Myra Phillips | Hank Parks |
| Justin Redelfs | Eric Yu | Rachel Prince | John Pringle |
| Joe Robinson | | Debbie Sparks | Trey Rathke |
| Theron Row | | | Kaylyn Schrock |
| Alec Tucker | | | MaKayla Scroggins |
| | | | Caleigh Smart |
| | | | Isiaiah Smith |
| | | | Courtney Thompson |